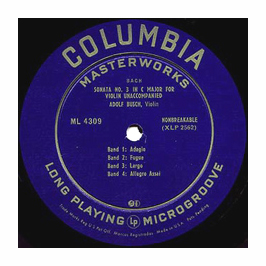 CBS Laboratories head research scientist Peter Goldmark (below) led a team
to develop a phonograph record that would hold at least 20 minutes per side.
Research began in 1941, was suspended during World War II, and then
resumed in 1945. Columbia Records unveiled the LP at a press conference
in the Waldorf Astoria on June 18, 1948. 
Peter Carl Goldmark (December 2, 1906 – December 7, 1977)


Dr. Goldmark (left) examining the first 33 1/3 LP record developed.