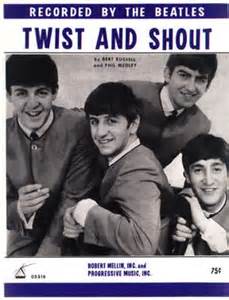 Released as a single in the US on March 2, 1964, "Twist and
Shout" reached number 2 on April 4, 1964, during the week
that the top five places on the Billboard chart were all Beatles
singles. It was the only million-selling Beatles single that was
a cover record, and the only Beatles cover single to reach the
Top 10 on a national record chart. The song failed to hit #1
because the Beatles had another song occupying the top spot,
"Can't Buy Me Love".
Live performance, November 4, 1963 during The Royal Variety Show
at Prince of Wales Theatre, London.