NBC asked comedian Jack Paar to succeed Steve Allen as host of The Tonight
Show, which had been renamed and replaced with various failed series in the
interim after Allen had left the show for prime time. Paar hosted the program
from 1957 to 1962.  At first, the show was called Tonight Starring Jack Paar;
after 1959 it was officially known as The Jack Paar Show.
During most of its run the show was broadcast from Studio 6B (formerly the
home of Milton Berle's Texaco Star Theater series) inside the RCA Building
(now called the GE Building) in New York City. The same studio would also
host early episodes of The Tonight Show Starring Johnny Carson.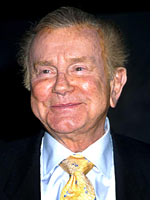 Jack Harold Paar
(May 1, 1918 – January 27, 2004)