The destruction along Main Street in Johnstown, Pa., following the collapse of the South Fork Dam killing 2,209 people on this day in
1889.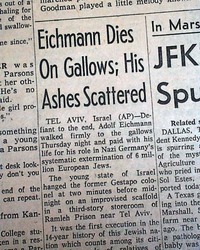 Walter "Walt" Whitman (May 31, 1819 – March 26, 1892) 
American poet Walt Whitman is best known for his collections Leaves of Grass
and Drum-Taps. His 1865 poem "O Captain! My Captain!" was written on the
occasion of the death of Abraham Lincoln. He dropped out of school at the
age of eleven and, to support his family, worked as a law office assistant and
a newspaper apprentice.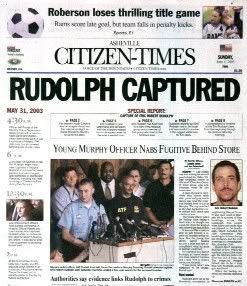 It was on this day in 2003.

Serial bombing suspect Eric Robert Rudolph (C) is escorted from
the Cherokee County Jail for a hearing in federal court.

Clinton Eastwood Jr. is 87 years old today. He was born in San
Francisco, California.

Clint Eastwood from The Good, The Bad And The Ugly (1966).


Clint Eastwood as Dirty Harry (1971).
Clint Eastwood worked as a lifeguard, a caddy, and a grocery clerk while growing
up. He became a household name after playing Rowdy Yates on the long-running
CBS-TV Western series Rawhide (1959 – 1965).