Archive for June 11th, 2017


The song "Maybe" by the Ink Spots went to the #2 position on
the U.S. Pop Music Charts.


Alabama Gov. George Wallace's literal stand (left) against forced integration on this day in 1963 made him a national figure in the
ongoing Civil Rights battle.

National Guard Brig. Gen. Henry Graham (left) informs Gov. George
Wallace that the guard is under federal control as the two meet at
the door of Foster Auditorium at the University of Alabama in Tuscaloosa, Ala.


On this day in June of 1963, Vietnamese Mahayana Buddhist monk Thích
Quang Duc burned himself to death at a busy intersection in Saigon. He
was attempting to show that to fight all forms of oppression on equal
terms, Buddhism too, needed to have its martyrs.
Photographer Malcolm Browne captured the scene in Saigon for the
Associated Press, and the stark image quickly became an iconic visual
of the turbulent 1960s.

Timothy James McVeigh  (April 23, 1968 – June 11, 2001)
Timothy McVeigh was convicted of blowing up the Oklahoma city federal
building killing and 168 people in the deadliest act of terrorism on American
soil. He was executed on this day in 2001.       

It was on this day in 1919.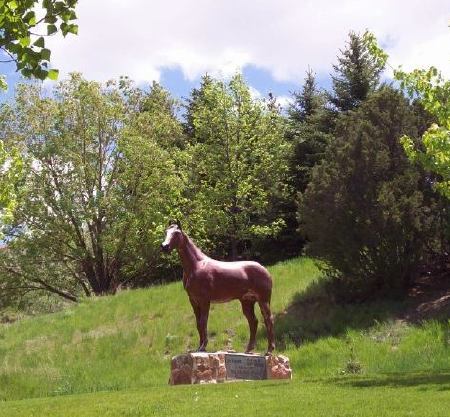 Sir Barton's monument and gravesite in Douglas, Wyoming.

On this day in 1979.

John Wayne (Marion Robert Morrison)
(May 26, 1907 – June 11, 1979)

The Duke's grave marker.
posted by Bob Karm in
Actors
,
ANNIVERSARY
,
Bomber
,
Civil rights
,
DEATH
,
Execution
,
Governor
,
HISTORY
,
Horse racing
,
Integration
,
MILITARY
,
WAR
and have
No Comments