The hard-line coup against Soviet President Mikhail Gorbachev ended on
this day in 1991. The uprising that led to the collapse was led by Russian
federation President Boris Yeltsin.


Boris Yeltsin (left) and Mikhail Gorbachev.

It was on this day in 1940.


Leon Trotsky (Lev Davidovich Bronstein)
(November 7, 1879 – August 21, 1940)
Nat Turner, a former slave, led a violent insurrection in Virginia on
this day in 1831. He was later executed.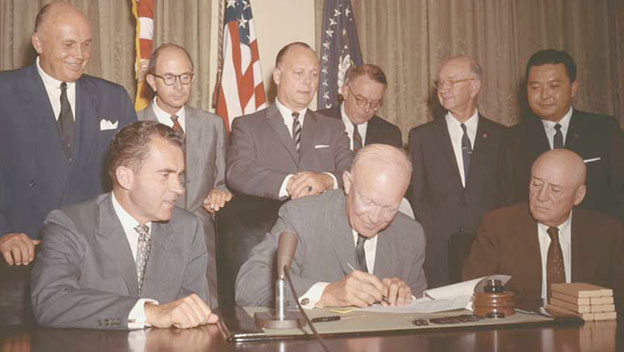 Hawaii became the 50th state on this day in 1959. United States
President Eisenhower (seated/center) also issued the order for
the 50 star flag.

William James "Count" Basie (August 21, 1904 – April 26, 1984)

Count Basie was an American jazz pianist, organist, bandleader, and
composer who introduced several generations of listeners to the Big
Band sound and left an influential catalog.  

                     
                      Kenneth Ray Rogers is 79 years old today.
Kenny Rogers has sold more than 100 million albums over the course of his
career. His 1970s albums The Gambler and Kenny went 5x Platinum and 3x
Platinum, respectively. In 2013, he was inducted into the Country Music Hall
of Fame. He joined his first band,The Scholars, in the mid-1950s, but the band
dissolved after their frontman left to go solo.
.