Harry S. Truman holding up a copy of the Chicago Tribune with the incorrect headline

Harry S. Truman defeated Thomas E. Dewey for the U.S. presidency on this
day in 1948. The Chicago Tribune published an early edition that had the
headline "DEWEY DEFEATS TRUMAN (above)." The Truman victory had 
surprised many polls and newspapers.

President Truman (right) on his campaign train whistle-stop.

On this day in 1963, South Vietnamese President Ngo Dihn Diem was
assassinated in a military coup.


Howard Hughes flew his "Spruce Goose," a huge wooden airplane, for eight minutes in California on this day in 1947. It was the plane's first and only
flight. The "Spruce Goose," nicknamed because of the white-gray color of
the spruce used to build it, never went into production.


The H-4 today is in McMinnville, Oregon, at the Evergreen Air and
Space Museum, about an hour outside of Portland.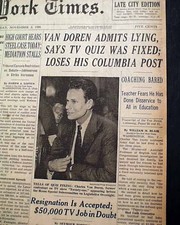 On this day in 1959, Charles Van Doren, a game show contestant
on the NBC-TV program "Twenty-One" admitted that he had been
given questions and answers in advance.

Charles Lincoln Van Doren turned 91 in Feb.