On this day in 1966, Dr. Samuel H. Sheppard was acquitted in his
second trial of charges he had murdered his pregnant wife, Marilyn,
in 1954.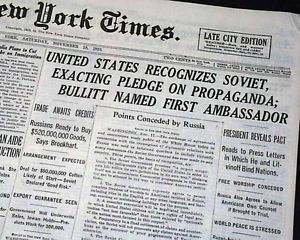 The United States and the Soviet Union established diplomatic
relations for the first time on this day in 1933.


William Christian Bullitt, Jr. (January 25, 1891 – February 15, 1967)


On this day in 2001, a second Anthrax letter found addressed to
Capitol Hill.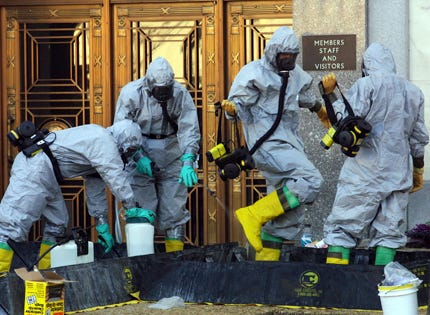 A hazmat team at the Senate Office Building in Washington, DC.


William Holden (William Franklin Beedle Jr.)  
(April 17, 1918 – November 12, 1981)
According to the Los Angeles County Coroner's autopsy
report, Holden was alone and intoxicated in his apartment
in Santa Monica, California, on November 12, 1981, when
he slipped on a rug, severely lacerating his forehead on a 
bedside table, and bled to death. His body was found four
days later on this day in 1981.
William Holden in The Wild Bunch (1969)


The musical "The Sound of Music" opened on Broadway at the
Lunt-Fontanne Theatre on this day in 1959.