On this day in 1968, Martin Luther King Jr. delivered his last speech
just 24 hours before he was assassinated. He spoke on… "I've Been
To The Mountaintop".


On this day in 1936, Richard Bruno Hauptmann was executed for
the kidnapping and death of the son of famous aviator Charles
Lindbergh and his wife Anne.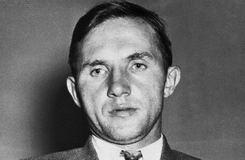 Bruno Richard Hauptmann
(November 26, 1899 – April 3, 1936)

The Charles Lindbergh family.
President Harry Truman signed the Marshall Plan to revive war-torn Europe on this day in 1948. It was $5 billion in aid for 16 countries.

On this day in 1882, the outlaw Jesse James was shot in the
back and killed by Robert Ford for a $5,000 reward. There
was later controversy over whether it was actually Jesse
James that had been killed.

Robert Newton Ford (January 31, 1862 – June 8, 1892)

The first Pony Express riders left St. Joseph, MO for Sacramento,
CA. on this day in 1860. The trip across country took about 10
days. The Pony Express only lasted about a year and a half.

Marlon Brando Jr. (April 3, 1924 – July 1, 2004) He was born
in Omaha, Nebraska.
Marlon Brando portrayed powerful characters such as Don Vito in The
Godfather (1972), Terry Malloy in On the Waterfront (1954), and Colonel
Kurtz in Apocalypse Now (1979). His performances in A Streetcar Named
Desire (1951) earned him additional acclaim.