On this day in 1948, U.S. President Truman signed executive orders
that prohibited discrimination in the U.S. armed forces and federal employment.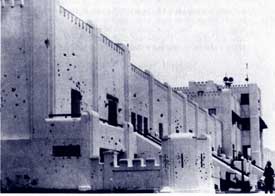 Fidel Castro began his revolt against Fulgencio Batista with an unsuccessful attack on an army barracks in eastern Cuba on
this day in 1953. Castro eventually ousted Batista six years later.

Former Cuban political leader and communist revolutionary, Fidel
Castro (center).

It was on this day in 1952.

Eva María Duarte de Perón (May 7, 1919 – July 26, 1952)
Eva Perón was the wife of Argentine President Juan Perón (1895–1974) and
First Lady of Argentina from 1946 until her death from cancer in 1952. She
was 33.


Evita and Juan Perón in 1947.


George Bernard Shaw (July 26, 1856 – November 2, 1950) 
Shaw was an Irish playwright, critic, polemicist, and political
activist. His influence on Western theatre, culture and politics
extended from the 1880s to his death and beyond. He wrote
more than sixty plays, including major works such as Man
and Superman (1902), Pygmalion (1912) and Saint Joan
(1923).

Sir Michael Philip Jagger is 75 today.
Mick Jagger is one of the most influential figures in the history of rock
and roll as frontman of the Rolling Stones, he was inducted into the Rock
and Roll Hall of Fame with the Stones in 1989. He met future Rolling
Stones guitarist Keith Richards in primary school.

Mick Jagger with The Rolling Stones.