John F. Kennedy and Lyndon B. Johnson won the election 
on this day in 1960, defeating incumbent Vice President and  
Republican nominee Richard Nixon, who would later go on
to be the 37th President of the United States. This was the
first election in which all fifty states participated, and the
last in which the District of Columbia did not.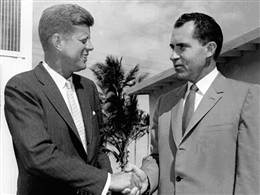 Newley elected President John F. Kennedy meets
with Richard M. Nixon following the election.

On this day in 1966, Ronald Reagan was elected to his first term as Governor of California with 57.65% of the vote. He left office in 1975, declining to run for a third term.