The D.C. sniper attacks (also known as the Beltway sniper attacks) were
a series of coordinated shootings that occurred during three weeks in
October 2002 in Maryland, Virginia and the District of Columbia. Ten
people were killed and three others were critically wounded in the
Baltimore-Washington Metropolitan Area and along Interstate 95
in Virginia.
The snipers were John Allen Muhammad (aged 41 at the time) and Lee
Boyd Malvo (aged 17 at the time), who traveled in a blue 1990 Chevrolet
Caprice sedan. Their crime spree, begun in February 2002, included
murders and robberies in the states of Alabama, Arizona, Florida,
Georgia, Louisiana, Texas, and Washington, which resulted in seven
deaths and seven wounded people; in ten months, the snipers killed
17 people and wounded 10 others.
In September 2003, Muhammad was sentenced to death, and in October,
the juvenile, Malvo, was sentenced to six consecutive life sentences
without parole. In November 2009, Muhammad was put to death by
lethal injection.

Lee Boyd Malvo (left) and John Allen Muhammad became known as
the "D.C. Snipers."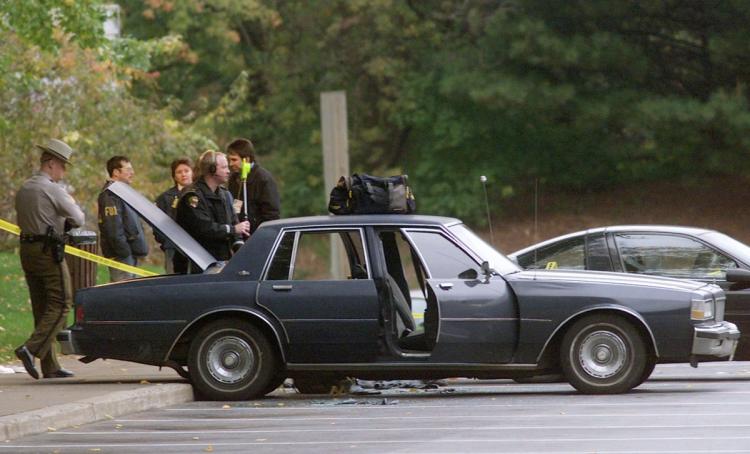 Law enforcement officers search the car that John Allen Muhammad
and John Lee Malvo were in when police arrested them at a rest stop along I-70 west of Myersville.

"The Bushmaster rifle used by the convicted snipers.