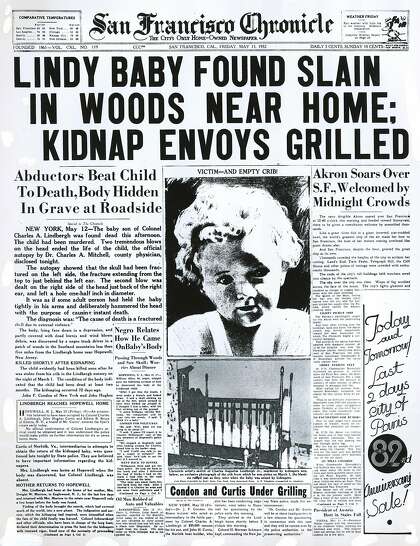 The body of aviation hero Charles Lindbergh's baby is found on May 12,
1932, more than two months after he was kidnapped from his family's
Hopewell, New Jersey, mansion.
Lindbergh, who became the first worldwide celebrity five years earlier
when he flew The Spirit of St. Louis across the Atlantic, and his wife
Anne discovered a ransom note in their 20-month-old child's empty
room on March 1. The kidnapper had used a ladder to climb up to the
open second-floor window and had left muddy footprints in the room
and in barely legible English, the ransom note demanded $50,000.
The crime captured the attention of the entire nation. The Lindbergh
family was inundated by offers of assistance and false clues. Even
Al Capone offered his help from prison, though it of course was
conditioned on his release. For three days, investigators had
found nothing and there was no further word from the kidnappers.
Then, a new letter showed up, this time demanding $70,000.


Charles Augustus Lindbergh
(February 4, 1902 – August 26, 1974)