Archive for March 29th, 2022


This April 1865 image provided by the Library of Congress
shows Federal troops in front of the Appomattox Court
House near the time of Confederate Gen. Robert E. Lee's surrender to Union Lt. Gen. Ulysses S. Grant, in Appomattox,
VA. (AP Photo/Library of Congress)
On March 29, 1865, the final campaign of the Civil War began in
Virginia when Union troops under General Ulysses S. Grant
moved against the Confederate trenches around Petersburg.
General Robert E. Lee's outnumbered Rebels were soon forced
to evacuate the city and begin a desperate race west.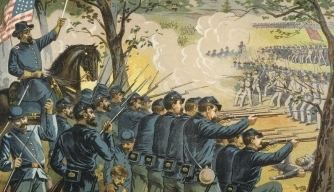 Gen. Robert E. Lee's surrender (left) to Union Lt. Gen.
Ulysses S. Grant.

March 29, 1973: Two months after the signing of the Vietnam
peace agreement, the last U.S. combat troops left South
Vietnam as Hanoi freed the remaining American prisoners
of war held in North Vietnam. America's direct eight-year
intervention in the Vietnam War was at an end. In Saigon,
some 7,000 U.S. Department of Defense civilian employees
remained behind to aid South Vietnam in conducting what
looked to be a fierce and ongoing war with communist North
Vietnam.