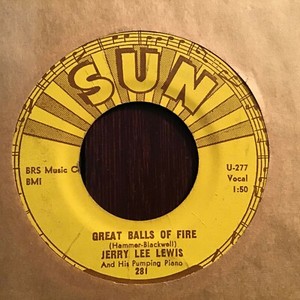 Jerry Lee Lewis was not the only early rock-and-roller from a
strict Christian background who struggled to reconcile his
religious beliefs with the moral implications of the music he
created. He may have been the only one to have one of his
religious crises caught on tape, however—in between takes
on one of his legendary hit songs. It was on October 8, 1957,
that bible-school dropout Jerry Lee Lewis laid down the
definitive version of "Great Balls Of Fire," amidst a losing
battle with his conscience and with the legendary Sam
Phillips, head of Sun Records.

Jerry Lee Lewis turned 87 September 29th.