Archive for the 'Drive-in' Category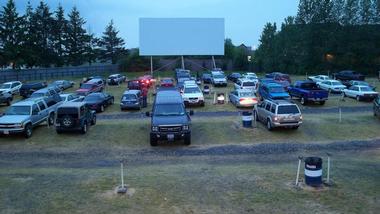 The 99W Drive-in movie theater (above) is a single screen outdoor movie
venue in Newberg, Oregon that has been in operation since it originally
opened back in the year 1953. Double features of first-run films are shown
at the drive-in on a season basis only during the weekends.
Throughout the years, more than fifty drive-in movie theaters have existed
in Oregon. Yet, today, only four are operating in the state and the 99W is
one of them.
The D-Day invasion of Europe took place on the beaches of
Normandy, France on this day in 1944. A total of 400,000 Allied
American, British and Canadian troops were involved.

Gen. Dwight D. Eisenhower gives orders to paratroopers on D-Day.

U.S. paratroopers attached to the static line just prior to jumping
during the invasion of Normandy.
posted by Bob Karm in
ANNIVERSARY
,
D-Day
,
DEATH
,
DEBUT
,
Drive-in
,
Exhumed
,
HISTORY
,
Invation
,
Leaders
,
MILITARY
,
MOVIES
,
Nazi Germany
and have
No Comments