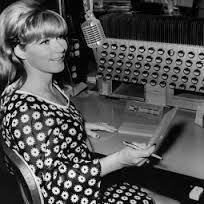 Shaaron Claridge (born Shaaron Lee Cooper; later Snead) (October 1, 1938 – September 15, 2021)
Claridge was a second-shift radiotelephone operator or police radio dispatcher at the Van Nuys Division of the Los Angeles Police Department best known for her voice work on the Adam-12 TV
series. Her husband was an LAPD motorcycle officer.
Following Milner's death on September 6, 2015, Claridge broadcast
the "End of Watch" transmission over the LAPD radio recognizing Milner's performance as Officer Pete Malloy in Adam-12.

Kent McCord as Officer James A. Reed, and Martin Milner as Officer Peter J. Malloy. The TV  series ran on NBC from 1968
to 1975 when it was cancelled.