Archive for the 'Rapper' Category

George Wallace was the 45th Governor of Alabama,
a position he occupied for four terms.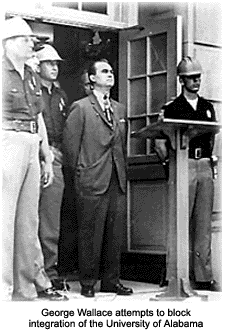 June 1963

May 1972

George Corley Wallace Jr.
(August 25, 1919 – September 13, 1998)
In his later years, Wallace suffered from deafness and
Parkinson's disease. He died of septic shock from a
bacterial infection in Jackson Hospital in Montgomery
on September 13, 1998. He suffered from respiratory
problems in addition to complications from his gunshot
spinal injury.
posted by Bob Karm in
Accord
,
ANNIVERSARY
,
Attempted Assassination
,
DEATH
,
Government
,
Governor
,
HISTORY
,
MUSIC
,
Natural disaster
,
POLITICAL
,
Prison
,
Rapper
,
Uprising
and have
No Comments