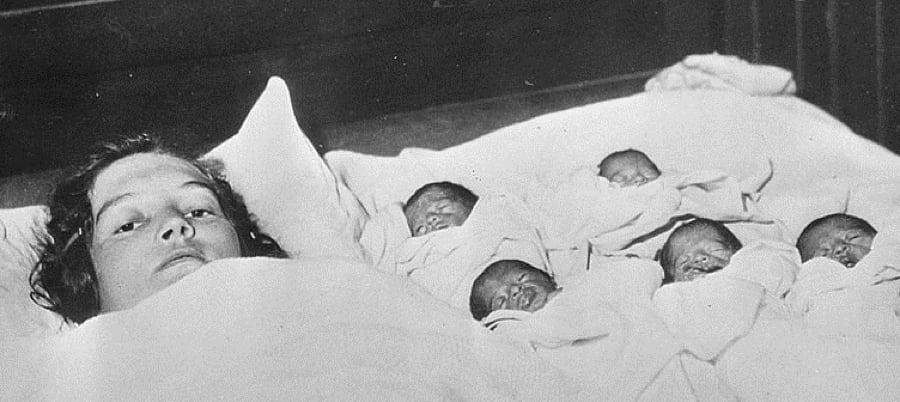 On this day in 1934, the Dionne quintuplets were born near Callender, Ontario, to Olivia and Elzire Dionne. The babies were the first quint's 
to survive infancy. Mother Elzire Dionne with her quintuplets (above). 
    
    

Annette and Cecile Dionne are 84 today and are the two surviving
members of the Dionne Quintuplets.


Ian Lancaster Fleming (May 28, 1908 – August 12, 1964)
Fleming was an English author, journalist and naval intelligence
officer who is best known for his James Bond series of spy
novels.


Horace Stoneham, left, owner of the New York Giants congratulates Walter O'Malley owner of the Dodgers.

On this day in 1957, National League club owners voted to allow
the Brooklyn Dodgers to move to Los Angeles and that the New
York Giants could move to San Francisco.

Edward VIII (Edward Albert Christian George Andrew Patrick David)
On this day in 1972, The Duke of Windsor, who gave up the British throne in
1936 to marry an American divorcee, died at 77 in his home near Paris. He
was a smoker from an early age, was diagnosed with throat cancer and
underwent cobalt therapy.

Philip Edward Hartmann (September 24, 1948 – May 28, 1998)

Canadian born actor/comedian Phil Hartman garnered fame in 1986
when he joined the sketch comedy show Saturday Night Live. He
won fame for his impressions, particularly of President Bill Clinton,
and he stayed on the show for eight seasons. Given the moniker
"The Glue" for his ability to hold the show together and help other
cast members, Hartman won a Primetime Emmy Award for his SNL
work in 1989.