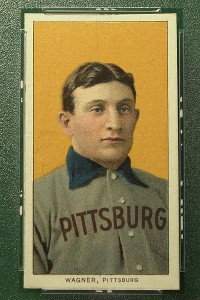 (AP) – The world's most expensive baseball card has hit the
auction block, and sports fans in Manhattan scored a peek
at it Friday.
The extremely rare 1909 Honus Wagner — which experts
have called the "Holy Grail" of sports memorabilia (above) 
is expected to fetch up to $5 million in an online auction
ending Oct. 1, according to Ken Goldin, founder of Goldin
Auctions.
Goldin said "In the world of sports, it is the single most well-
known, iconic symbol in the industry. Wagner was the
greatest shortstop of all time." The card was put on
display at the Yankees-themed restaurant NYY Steak
in Midtown on Friday.

Johannes Peter "Honus" Wagner 
(February 24, 1874 – December 6, 1955)