Susan Oliver (born Charlotte Gercke in New York City)
(February 13, 1932 – May 10, 1990)
Oliver began drama studies at Swarthmore College,
followed by professional training at the Neighborhood
Playhouse School of the Theatre in New York City.
After working in summer stock and regional theater,
and in unbilled bits in daytime and primetime television
shows and commercials, she made her first major TV
appearance in a supporting role in the July 31, 1955,
episode of the live drama series Goodyear TV Playhouse,
and quickly progressed to leading parts in other shows
from Star Trek to Twilight Zone.

By the late 1970s with acting opportunities coming less
frequently, Oliver turned to directing.

Susan Oliver passed away from cancer in Woodland
Hills, Los Angeles, California. She was only 58.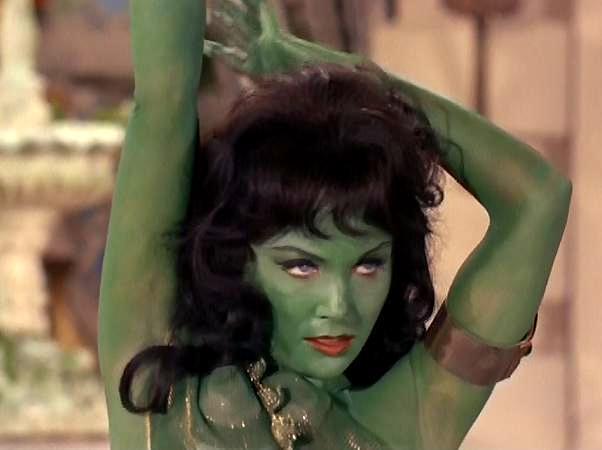 Oliver as Vina transformed into an Orion slave girl in the Star Trek episodes "The Cage" and "The Menagerie".
In 1967, piloting her own Aero Commander 200, (above) Oliver
became the fourth woman to fly a single-engine aircraft solo 
across the Atlantic Ocean and the second to do it from New 
York City.