President Coolidge (center) illuminating the community Christmas
tree, south of the White House.

On December 24, 1923, President Calvin Coolidge presses a button and
lights up the first national Christmas tree to grace the White House
grounds.
Not only was this the first White House "community" Christmas tree, but
it was the first to be decorated with electric lights–a strand of 2,500 red,
white and green bulbs. The balsam fir came from Coolidge's home state
of Vermont and stood 48 feet tall. Several musical groups performed at
the tree-lighting ceremony, including the Epiphany Church choir and the
U.S. Marine Band. Later that evening, President Coolidge and first lady
Grace were treated to carols sung by members of Washington, D.C.'s
First Congregational Church.

President Coolidge and the first lady Grace.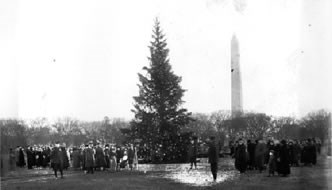 The Washington Monument is seen in the background.

John Calvin Coolidge Jr.
(July 4, 1872 – January 5, 1933)         
        
        
        

        
First Lady Melania Trump, joined by President Donald J. Trump,
lights the 2019 National Christmas Tree during the 97th annual
National Christmas Tree Lighting Ceremony Thursday, Dec. 5,
2019, on the Ellipse in Washington, D.C.