Blonde bombshell and celebrated actress Jayne Mansfield was killed instantly
on June 29, 1967, when the car in which she is riding struck the rear of a trailer truck on U.S. Route 90 east of New Orleans, Louisiana.
Mansfield had been on her way to New Orleans from Biloxi, Mississippi, where
she had been performing a standing engagement at a local nightclub; she had
a television appearance scheduled the following day. Ronald B. Harrison, a
driver for the Gus Stevens Dinner Club, was driving Mansfield and her lawyer
and companion, Samuel S. Brody, along with three of Mansfield's children with
her ex-husband Mickey Hargitay, in Stevens' 1966 Buick Electra.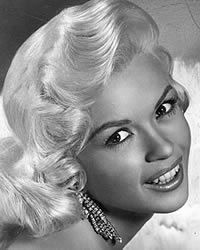 Jayne Mansfield (Vera Jayne Palmer)
(April 19, 1933 – June 29, 1967)