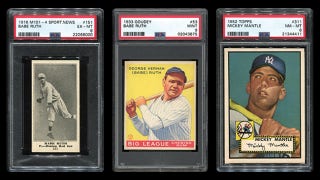 (NewYorkPost) – A Florida doctor who died from COVID-19
complications in January left his family a lot of baseball
cards worth $20 million.
Dr. Thomas Newman's treasure trove — featuring cards of
Honus Wagner, Ty Cobb, Babe Ruth and Lou Gehrig — is
going to be auctioned off.
More than 1,000 baseball, football and hockey cards dating
back to 1880 will be for sale to the highest bidder.