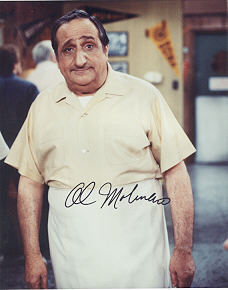 Albert Francis "Al" Molinaro (born Umberto Francesca Molinaro)
(June 24, 1919 – October 30, 2015)
Al Molinaro died in a Glendale, California, hospital on Friday. His son
said his father's death was the result of complications from an infected
gallbladder. He was best known for portraying Al Delvecchio on Happy
Days on ABC from 1974-1984. He retired from acting in television and
films in 1992, but continued to appear in TV commercials until the early
2000s.

Al Molinaro as police officer Murray Greshler
inThe Odd Couple in 1974.