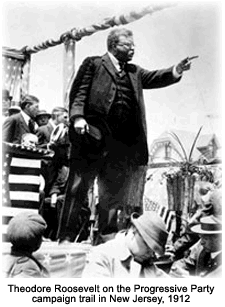 Theodore Roosevelt was nominated for the presidency by the
Progressive Party, a group of Republicans dissatisfied with
the re-nomination of President William Howard Taft. Also known
as the Bull Moose Party, the Progressive platform called for the
direct election of U.S. senators, woman suffrage, reduction of
the tariff and many social reforms. Roosevelt, who served as
the 26th president of the United States from 1901 to 1909,
embarked on a vigorous campaign as the party's presidential
candidate. A key point of his platform was the "Square Deal"
—Roosevelt's concept of a society based on fair business
competition and increased welfare for needy Americans.

Theodore Roosevelt Jr. (
October 27, 1858 – January 6, 1919)