On this day in 1972, President Richard M. Nixon and White House
chief of staff H.R. Haldeman discussed a plan to use the CIA to
obstruct the FBI's Watergate investigation. A tape recording of this meeting between the two men in the Oval Office became known as
the "Smoking Gun" tape.

President Richard Nixon (seated) meeting with Chief of Staff H. R. ("Bob") Haldeman in the White House.


On this day in 1940, Adolf Hitler (center) visits Paris after France falls
to Nazi Germany.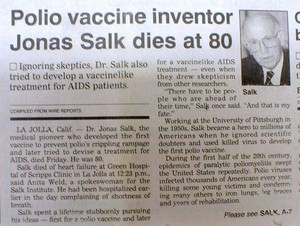 It was on this day in 1995 when Dr. Jonas Salk died from heart
failure.

TIME Magazine Cover: Dr. Jonas Salk — Mar. 29, 1954.

Jonas Edward Salk (October 28, 1914 – June 23, 1995)