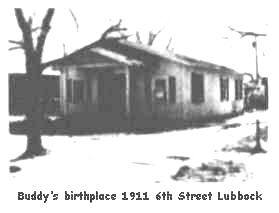 Buddy Holly (Charles Hardin Holley)
(September 7, 1936 – February 3, 1959)

Buddy Holly won a talent contest when he was five years old for singing
"Have You Ever Gone Sailing (Down the River of Memories)." Rolling
Stone ranked him as the thirteenth "Greatest Artist of All Time."  

The 8 .5-foot-tall bronze statue of the rock 'n roll legend in Lubbock,
Texas.