Archive for May 28th, 2017

Brian Doyle (August 12, 1956 – May 27, 2017) Born in Ottawa, Ontario.
PORTLAND, Ore. – According to a release from the University of Portland,  Brian
Doyle passed away Saturday morning from complications related to a brain tumor.
He was the author of "Mink River," "The Plover," "Chicago," and "Martin Marten." He
won a 2016 Oregon Book Award for Young Adult Literature for "Martin Marten."
.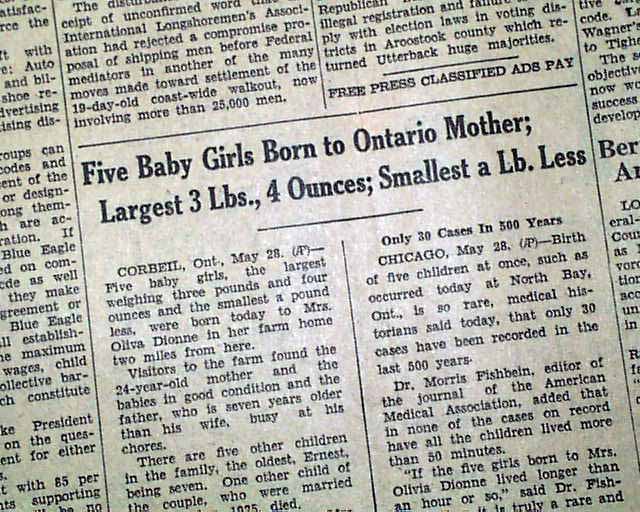 The Dionne quintuplets were born on this day in 1934 near
Callender, Ontario, to Olivia and Elzire Dionne. The babies
were the first quintuplets to survive infancy.

The Dionne Quints, grown up at 18 in 1952.

The remaining Dionne Quintuplets of Canada.   

Ian Lancaster Fleming (May 28, 1908 – August 12, 1964)
Ian Fleming was an English author, journalist and naval intelligence officer
who is best known for his James Bond series of spy novels.

Edward VIII (Edward Albert Christian George Andrew
Patrick David) (June 23, 1894 – May 28, 1972) 
National League club owners voted on this day in 1957 to allow the Brooklyn
Dodgers to move to Los Angeles and that the New York Giants could move
to San Francisco.
 
posted by Bob Karm in
ANNIVERSARY
,
Author
,
Baseball
,
BIRTHDAY
,
CHILDREN
,
Comedian
,
DEATH
,
HISTORY
,
MOVIES
,
Murder
,
THEN AND NOW
,
TV series
and have
No Comments