Lonnie Melvin "Mel" Tillis (August 8, 1932 – November 19, 2017)
(Fox News) – Country music singer Mel Tillis, whose six-decade career included
hits such as "I Ain't Never" and "Coca Cola Cowboy," died today (Sunday).   
His publicist said Tillis passed away at Munroe Regional Medical Center in Ocala,
Fla. He was previously inducted into the Country Music Hall of Fame, Nashville
Songwriters Hall of Fame and Grand Ole Opry. Former President Barack Obama
awarded Tillis the National Medal of Arts in 2012 (below).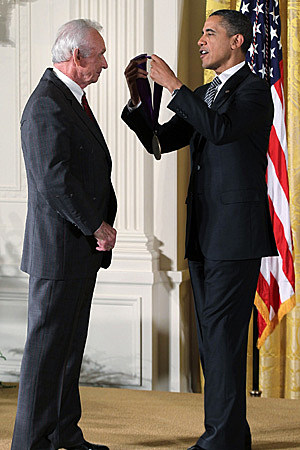 Mel Tillis was among eight recipients
of President Obama's National Medal
of the Arts in 2012.