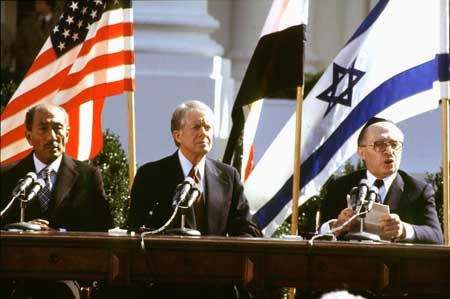 From left: Egyptian President Anwar el-Sadat, President Jimmy
Carter and Israeli Prime Minister Menachem Begin.
The Camp David treaty was signed by Israel and Egypt on this day in 1979. It 
ended the 31-year state of war between the two countries.
On this day in 1997, the 39 bodies of Heaven's Gate members were
found in a mansion in Rancho Santa Fe, CA. They had apparently
committed suicide thinking that they would be picked up by a
spaceship following behind the comet Hale-Bopp.

Marshall Applewhite (above) the leader of the Heaven's Gate cult.

The first U.S. hockey team to win the Stanley Cup on this day in 1917.

On this day in 1964, the musical "Funny Girl" opened on 
Broadway starring Barbra Streisand.
The semi-biographical plot of "Funny Girl" is based on the life
and career of Broadway star, film actress and comedian Fanny
Brice featuring her stormy relationship with entrepreneur and
gambler Nick Arnstein. Its original title was My Man. The musical
was nominated for eight Tony Awards but, with competition from
Hello, Dolly!, it failed to win in any categories.

Diana Ernestine Ross is 74 years young today.
Motown singer Diana Ross gained fame as a member of The
Supremes and who later won a Golden Globe for her role as
Billie Holiday in Lady Sings the Blues in 1972. She once
dreamed of being a fashion designer.